This tutorial was originally posted by VixenSingsBlack on the old HH board. Found in the google cache.
"What this tutorial can do:
Teach you how to make a quality wig which looks more like installed dreads, rather than hair falls. It also has section on transitionals, but it's not really good.
What this tutorial can't do:
-So I'm not sure if this tutorial will really apply to people with cheapy party wigs, because that's not what I'm working with. I'd say the wigs I use are mid-high quality, with a skin cap at part, lace at crown, stretch net at sides, and wefts in the back.
-This tutorial is also not for making those big/super full/gigantic wigs that look like big-ass hair falls on top of a wig base. I go for a more natural/sleek look, no unnecessary bulk.
- This tutorial is not for people in a HUGE rush.
#1 If you want to have long side pieces, the first thing you need to do is separate them away from the bulk of the hair, braid them, and bring them around to the wig-stand face.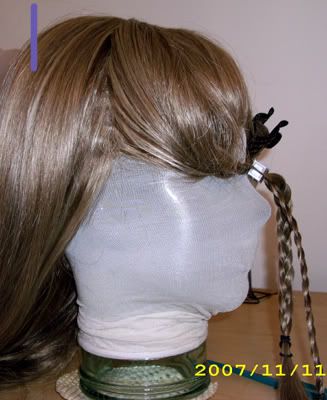 #2 Make sure this is nice and neat, because later it will be seen once you've got the dreads at the top. I like to use up about 1 inch of the skin cap part and go down the sides to the back of the side burn spot.
[/img]
#3 My wig-stand is a glass head with a stocking leg pulled over its head. When that wasn't enough grip, I made a temporary "strap" out of fabric and attach it to the wig via safety pins. This way you can pull and pull and pull all you want! I pin mine on either side of the wig at the side burn spot.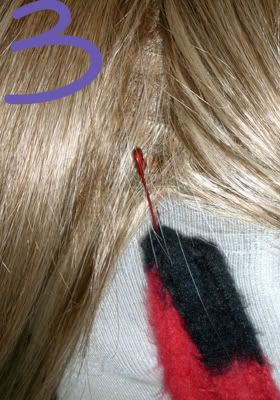 [/img]
#4 Once you've got it secured, it's time to section! I like to start at the bottom, and work my way up, that way I can be sure to fill in the bald spots. You'll see what I mean soon. So take the top half of the hair and get it out of the way. Then section neatly that bottom half into 4 or 5 horizontal rows, keeping the upper rows out of the way with clips, pins, etc.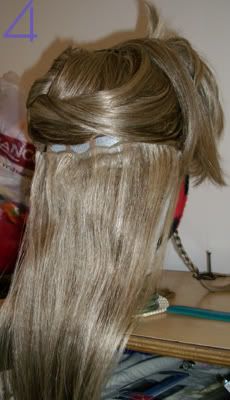 [/img]
#5 In this pic I've already done the very bottom 3 dreads, now I have my next row pulled down. Here's the part about bald spot hiding. The 3 dreads on the bottom row leave bald spaces in between them. So on the row above, you make the dreadlocks go into those spaces. In the pic I have the hair loosely twisted for where I want it to eventually lay.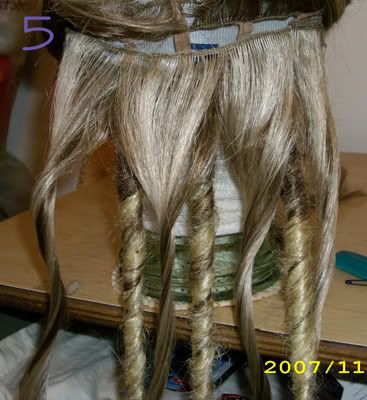 [/img]
#6 Remember, keep it neat! That way everything can fall into place without super-duper bulk. I use 3 to 4 wefts in each horizontal row.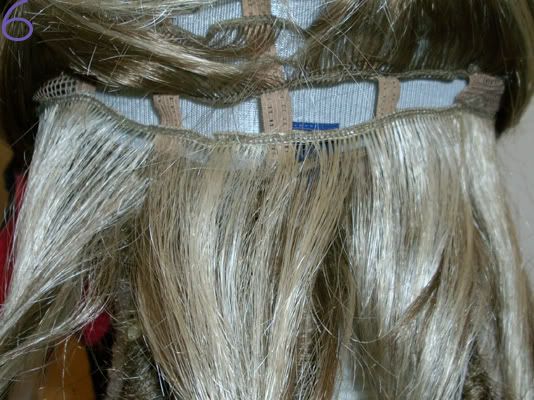 [/img]
#7 I use the traditional transitional method here. Basically use 2 colors and back comb seperately, then make sure at the top one color eats the other, and at the bottom do the same thing. In the pic you can see I've added jumbo braid by slipping it through the netting.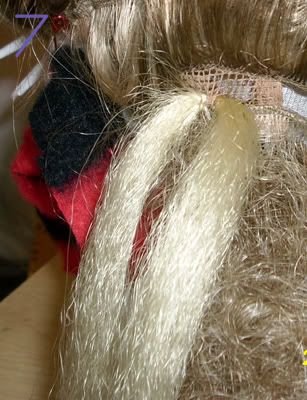 [/img]
#8 I am also using my own latch hook method. Leave the bottom of the dread backcombed but unsealed and latch hook the second color of hair through it over and over until a strong bond is made. Backcomb, twist, seal!
[/img]
#9 Now just continue up the wig, up and up, and you should wind up with something like this:
If you can see, I've got tri color and bi color transitionals. Look close for the tri colors> wig's dark blonde, to #613, to white.
#10 Here's some pics of day 2, continuing up the wig. In these pics you can see how it's starting to get thicker and have nice coverage. I'm still only using tri-color transitionals at this point, but I also introduced my 4th color. Now the wig is the base dark blonde, #22, #613, and white. It won't be until the very top layers that I'll start doing Quadsitionals (4 color transitionals).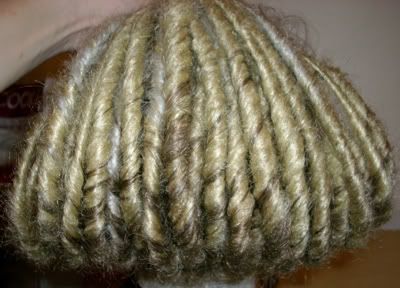 #11 The finished product.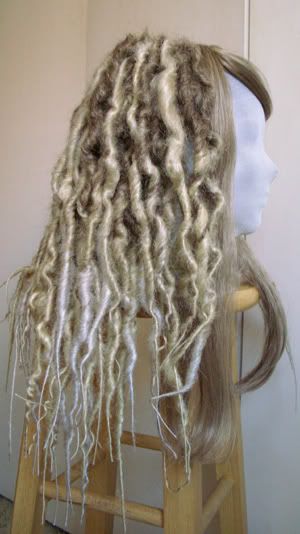 #12 Modeled, by moi!