Hey guys
I'm working on another set of dreads inspired by the female Eclectus parrot
This page has the specific picture I was looking at:
http://www.parrots.org/index.php/encycl ... us_parrot/
Granted, I could only use what colors I already had, which were red, tomato red, and cobalt blue, but I definitely would have added some different blues and perhaps cherry red if I had them available. Oh well.. I think I did quite well with what I had. Anyway, pictures!
A picture to show thickness (they've since been resealed and are less loose)
And then here is my first semi-successful attempt at a transitional! I almost want to put this in the show off sections just because I'm so damn excited I finally made one almost right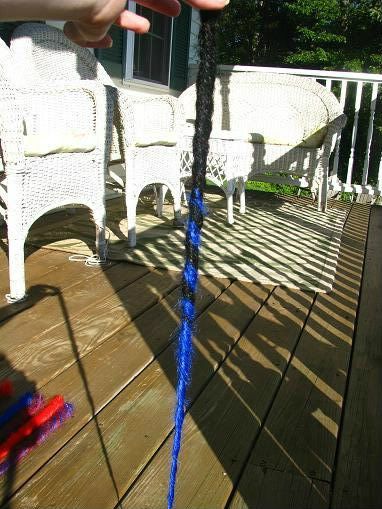 wtfffff.... I thought it was just facebook but none of my pictures want to show up right-side up on ANY website. That picture is saved right-side up on photobucket and on my computer, I have the tab open and I'm looking at it right now 0_o I don't get it.
So, what do you think? As far as color scheme, sealing, etc? These turned out pretty fuzzy and I found the loops harder/less neat because of how much more hair I used. I also had to use silky red for all of the blends, and the contrast in texture between that and the jumbo braid was a little weird to backcomb evenly.
Thanks guys