Hi!
I'm going to start making my first set of wool dreads and I'm a total newbie. I have these beautiful merino wool bundles in shades of blue and purple. I've read the FAQ's and tons of other posts and I think I know what to do and such, but I haven't managed to find how to achieve a more natural looking dread? I want them to be a bit messy, not totally even and a bit rough with a skinny tapered end. Like real hair would look like, sort of. Except wool. And I don't really want synthetic dreads. How can I do that?
Should I crochet and then felt? Back-comb first? Try to back-comb after them being felted? Braid and then felt? Dry-felt? Is it easier to get them to look like that in the washing machine or should I do it by hand? Is it even possible to get more textured wool dreads?
Also I have a sidecut, and I've been thinking about making double ended dreadlocks, however I've started to wonder if I should do them single ended instead, because I think it'll be very obvious that they are braided in when you see the sides of the dread, and I want a quite natural look. What do you recommend?
Ahh. Sorry for all the questions. I'll love you forever if you help me!
My google hunt gave me these pictures: (which aren't exactly right, but sort of in the right direction)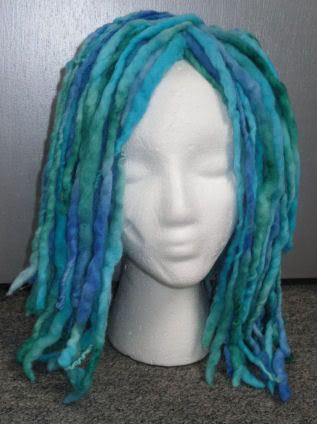 (this last picture is quite perfect)
And I adore these natural synthetic dreads from VisenSingsBlack and I kind of want something like this. Except not synthetic. Uhm.