So about 3 months ago, I decided I wanted a dark blue under-colour.
The problem was my hair was black and I had little money.
Firstly I stripped my faded black (using re-wind hair colour remover) then slapped on some bleach. I had to leave my hair a few weeks and then re-bleach the mids to ends to get rid of the orange.
If I had bothered to follow all the information on here about getting my hair blue, I probably would have succeeded, but I was impatient and put the blue dye on when my hair was still slightly yellow
Which faded in one wash to a manky green. what a surprise!
I then tried a bleach bath, but results were still inconclusive.
Finally this week, I used tomato sauce on my hair (
) which actually helped fade the green a little.
Then, when I couldn't find my little tub of red to add a little to my blue dye to get rid of the green, I struck upon a cheapo idea, natural red food colouring! I added a tiny bit to my dye and it seems to have helped a lot. My hair is finally blue. In places a little hint of green is still visible, but I think it looks more petrol green, which I like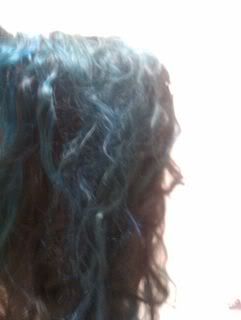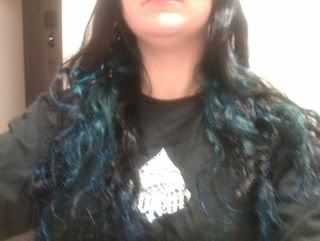 The pics aren't great, but you get the idea. I'm tempted to do my whole head in it!